If you're looking for more ways to keep growing your email list, then social media is a great pond to start fishing in.
Your social media fans and followers already have an interest so let them know there is more if they were to signup.
Email is one of the most powerful forms of marketing with 91% of consumers checking their email every single day.
Email marketing is one of the highest converting channels which is why many online businesses and marketers look for ways to continually grow their email lists.
While you may already be using social media to try and build your email list, are you doing it right?
Are you getting a constant stream of new contacts?
Most businesses or marketers just whack their links to sign up forms here, there and everywhere sitting on their hands hoping for leads.
If not, I am here to help with my trusted list of tips and tricks to help you get to the point where you have got a steady stream of new contacts.
You may have already tried some of the things on this list but if they aren't planned out correctly or haven't got such things as CTA's or value, then they won't work.
I will explain how to get each one working with little hassle.
Facebook Signup Form
Image Source: MailChimp
One of the easiest and first things you can do to start generating email signups from Facebook is to create a signup form.
This will make it easy for those loyal fans that regularly engage with your brand and would already like to signup but didn't know they had the option.
To make this work, you will need to design an image that will attract the eye and a CTA (call-to-action) that will draw them to click.
If you're using an email provider such as MailChimp or ClickFunnels' Actionetics, then they will already have an app for you to create this signup tab.
Check with your email provider to see if they have an app that will do this for you.
Unfortunately, other social media sites don't have this same feature but you can include a link to your signup page and use the bio text to direct people to click on the link.
For example, it could say, "We are experts in getting you more sales online.
Register to get our free training programme here: signup link would go here."
However one issue many people have when just using text links is not being able to track their clicks.
So I'd advise using a link tracker software like Bit.ly or Google Shortner.
Downloadable eBooks
Screenshot from Marketo website
Sharing valuable and premium content on social media can attract many of your fans and followers to submit their contact information.
I have seen businesses try this before, however, and it didn't work either because the same content was published on your blog for the world to see or because the content isn't as valuable as you think.
The aim of the game is to create content that reaches out to your target audience's pain points and offer a solution by way of tips, statistics and case studies.
Once you have created your eBook, create a landing page for it that has a contact form, so users have to fill it to download the content.
Once you have your eBook and landing page, it is time to share it on all your social media channels.
When sharing, be sure to state clearly how this eBook can help them and include a clear CTA to encourage your fans and followers to click.
Running Webinars
Webinars are another form of premium content that when shared on social media can help build your email list.
Social media was made for people all over the world to connect and so for that reason it is good to come out of hiding behind your brand logo and create content to share that is personable.
Make sure to have someone present the webinar that your fans and followers can relate with.
Do the same with the eBook and create a landing page where users can either buy tickets to the webinar or register if it is free.
You can then share the link to this landing page on all your social media accounts to start building your email list.
Doing this regularly will lead to an increased reputation that will give rise to an increased following that will lead to a constant stream of new contacts.
Incentives
Image Source: The Real Time Report
People don't give up their contact information for nothing so having proper incentives can also work to drive a steady stream of new contacts.
Such incentives could be giveaway contests that you need to be careful with as you want to generate relevant contacts not a bunch of "compers".
To create a successful contest that will generate relevant contacts, make sure that the prize you are offering is relevant to your product/service or how users enter the competition is relevant.
For example:
An online store selling digital papers does a social media content in which they are giving away a 3-month digital paper subscription.
An online jewellery store is running a social media contest in which student jewellery designers have to design their necklace with the winner getting their necklace made.
You will likely generate "compers" if you give away an iPad to anyone who shares or retweets your post.
If you want to take this a step further, you can purchase a bunch of goods from a specific company or likeable character in your industry and use those for a competition.
Russell talks about doing something similar on this Marketing Quickies Show (definitely take a listen).
That way you're using supplementary products to pique interest.
Email Sneak Peeks
An excellent way to get more contacts from social media is to tease your fans and followers with the content or offers you send to your email subscribers.
For this to work, you will need to send content and offers to your email list that is exclusive to them as you aren't giving much of an incentive for people to sign up when they can get the same content and offers on your blog or Facebook.
You can create social media a post notifying fans and followers about what is going to arrive in their mailboxes tomorrow and state that only those who have signed up to your newsletter will get this exclusive.
Make sure the exclusive content or offer is of value and to add a CTA to encourage fans and followers to click to sign up, so they don't miss out.
Social Meta Data
I'm sure you know that you need to create compelling metadata to increase organic search click-through-rate, however, did you know that you also need to create compelling metadata for when people share your links on social media?
Well, you do now.
Just like as you would with organic search, you need to create a title, description and CTA that will encourage social media users to click through and signup.
The difference with social media metadata is that you can add an image too.
Facebook also goes as far as having a meta tag that will help them whether it is a website or blog post that is being shared and a meta tag to tell them who owns the content if that company has a Facebook Fan page.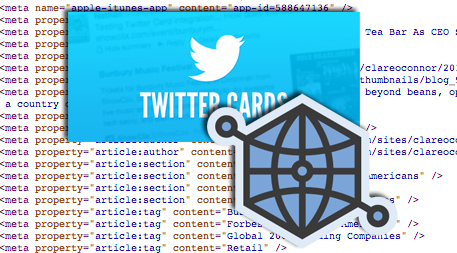 Social meta-data is the perfect opportunity for you to add CTA's when loyal customers are sharing your link to encourage their friends and family to also signup.
Videos
You can use your YouTube videos on your other social media channels to generate email signups by adding associate website annotations to your video that will allow viewers to click and be directed to the landing page you have set up to collect email addresses.
As well as using associate website annotations, you can also suggest viewer's signup to your email list at the end of every video without duplicating the script.
An incredible tool to use for your videos is Wistia, which lets you embed contact forms onto your video, so you don't even have to direct anyone anywhere; they can sign up right there and then.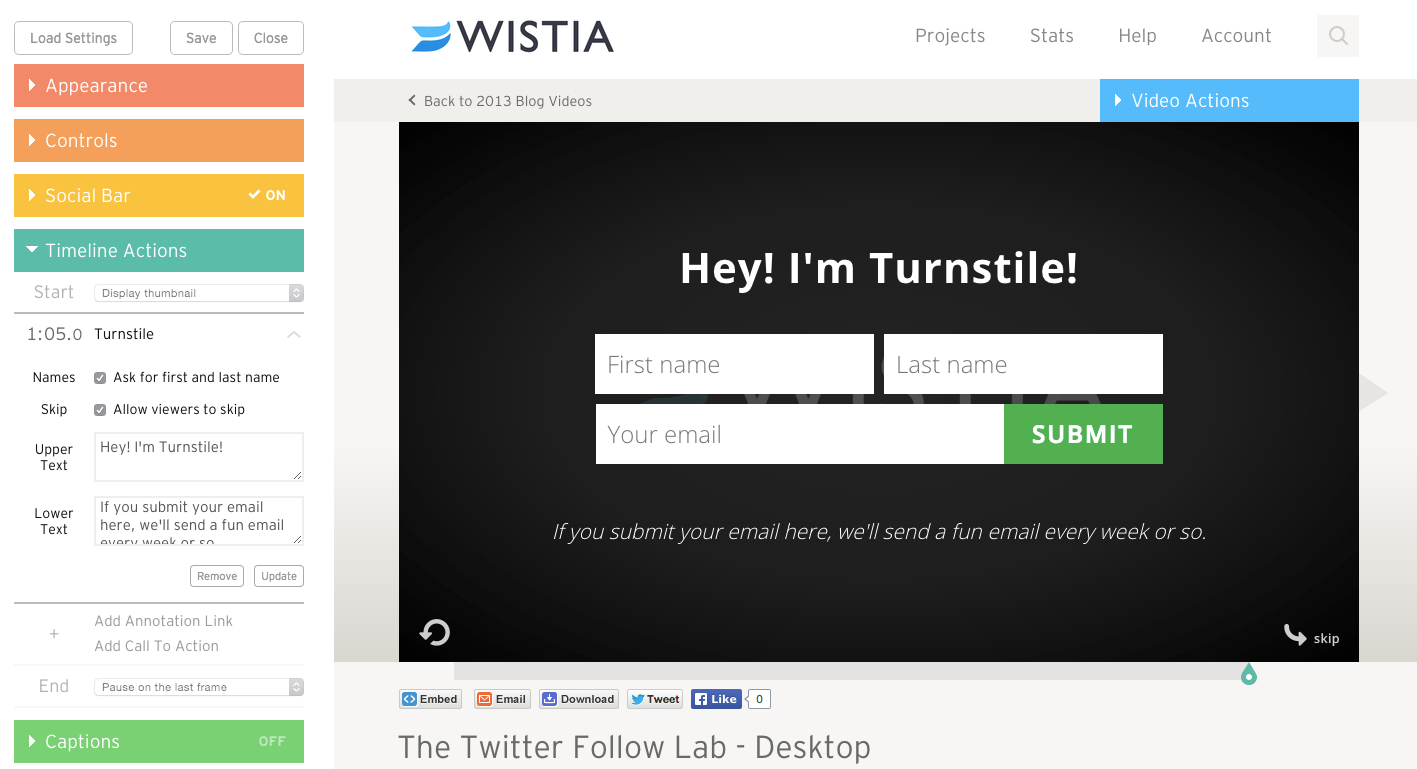 Wistia will let you decide whether you want the form to be placed at the start of the video, 15 seconds into the video or further on.
It will also give you the option as to whether you want to stop viewers watching the video if they don't signup.
Who's Doing It Well
Someone who is successfully using social media to build their email list is Amy Porterfield who is a social media strategist…  go figure.
Out of all the social media channels, she mainly focuses on Facebook to build her email list.
In 2010, Amy had around 600 contacts in her email list, fast forward two years where grew that to 50,000 contacts who were all engaged!
How has she done that?
She used social media to drive traffic to her premium content and giveaways that users would need to fill in their contact information to see.
Not only that but she insists that using social media to build relationships and make connections was equally as important to the growth of her engaged email list.
Are you struggling to grow your email list? What are the major struggles you are facing?
Please share all your stories, thoughts and ideas by leaving your comments below.